Have Fun With Your Nails This Summer
06 28, 2022
Summer is finally here, and that means that it is time for this season's roundup of the hottest nail designs for summer 2022. There's nothing that feels quite like a fresh set of nails, especially ones that you love and that make you smile every time that you look at them. This time of year is all about bold, bright colors and fresh, crisp designs. If you've been stuck in a rut with your manicures, now is the time to step out of your comfort zone and try something a bit more daring. That's why we've put together this collection of bold nail designs with prints and patterns to help inspire you to have fun with your nails this summer.
Butterflies
Butterflies are a symbol of transformation and rebirth. Their beauty and grace make them a favorite of many. This summer you'll be seeing butterflies incorporated into many nail designs- everything from realistic representations to metallic silhouettes. A single small butterfly may accentuate classic French tips, or perhaps clusters of butterflies adorn long ombre coffin nails.  
Neon Gradient
Gradient manicures have been popular for a while now. This summer they're getting a revamp with neon colors. Choose a monochromatic color scheme or go for the rainbow with a fruity accent nail. Either way, it's a super fun and bright look that's very fitting for the season.
Bright Red
If you want to grab attention and make a statement with your mani, bright red with a minimalist black cheetah print should do the trick. It's a sexy, fun, and flirty look that pairs perfectly with a black bikini on the beach or a black cocktail dress for a night out.
Trendy Abstracts
Ivory, salmon, and turquoise are the perfect summery palette for any manner of trendy abstract designs. Combine thin stripes, dots, swirls, and sunbursts, one on each nail, for a casual look, or opt for a more predictable pattern for a more professional vibe.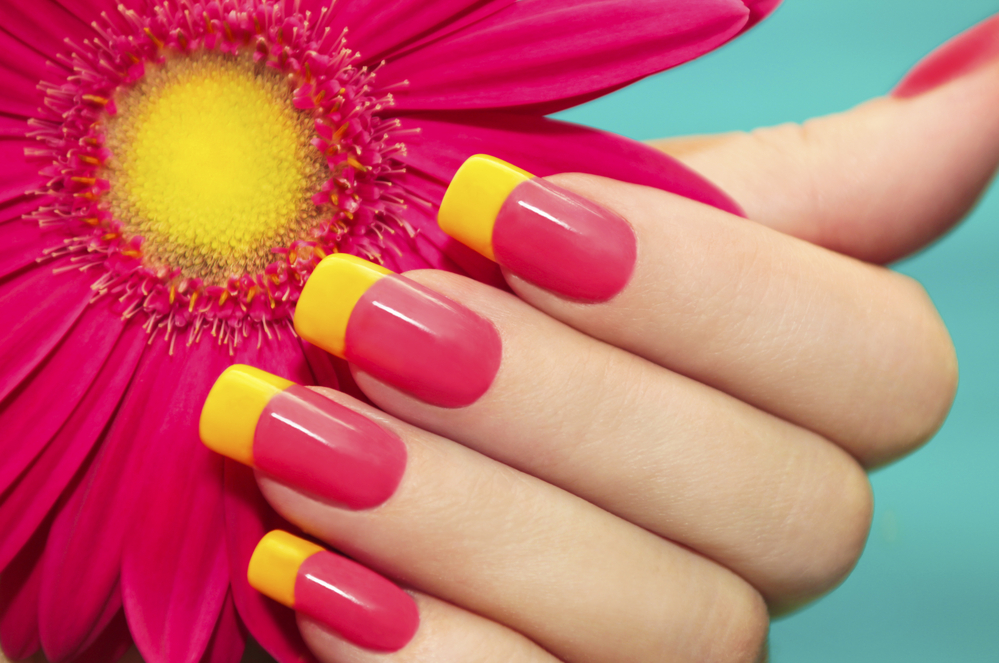 French Tips
French tips never go out of style. This season's tips are far from the beautiful but sometimes boring white. Colorful neon and rainbow tips are taking over. You'll see everything from corner Frenchies, to negative spaces, to color blocking. We're loving this fun new take on a classic nail design.
Flower Power
We're not talking over-the-top florals here. A cute and simple floral accent is all that is needed to make a powerful statement. Use flowers for one or two accent nails or to embellish a simple matte pastel mani to make your nails pop.
Caring For Your Manicure
Of course, you want your gorgeous new nails to last as long as possible. You can do a few simple things to ensure your polish stays perfect longer. One thing you can do is opt for shorter nails. Shorter nails are stronger and less likely to split or break. Avoid alcohol-based hand sanitizers whenever you can to avoid drying out your topcoat. Always wear gloves when cleaning or washing dishes, and never use your nails as tools to scrap, pick, or pry things. Finally, ask your nail technician to recommend a good top coat to apply every 2-3 days at home to keep your polish well protected.  
The talented nail technicians at Utopia Salon & Day Spa are up to date on all the latest nail design trends and are ready to help you have fun with your nails this summer. Give us a call at 856-794-9200 to book your next nail appointment and kick the summer off right with a fresh new manicure. Download our free mobile app from iTunes or Google Play to easily manage appointments on the go. We'll see you soon at 510 North East Avenue in Vineland, New Jersey.